PLEASE NOTE
If you wish to create an account, you will need to do so on the desktop version of the site!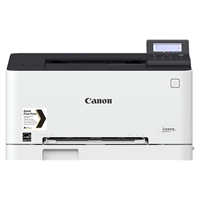 CANON i-SENSYS LBP611Cn Colour Laser Network Printer
Manufacturer Part Code: 1477C019
Order Code: PNCAN-1477C019
Canon i-SENSYS LBP611Cn - Printer - colour - laser - A4/Legal - 1200 x 1200 dpi - up to 18 ppm (mono) / up to 18 ppm (colour) - capacity: 150 sheets - USB 2.0 Gigabit LAN USB host
Canon LBP611Cn

Space-saving colour laser printer capable of print speeds up to 18 ppm, and packed with features to support mobile working. Promising high-quality performance and low maintenance, it?s ideally suited to small and home office environments.
Technical Information
Design
Display
LCD
Colour of product
Black, White
Display number of lines
5 lines
Built-in display
Y
Energy management
Input voltage
220-240
Power consumption (standby)
10.8 W
Input frequency
50/60
Energy Star Typical Electricity Consumption (TEC)
0.5
Power consumption (max)
850 W
Input capacity
Standard input capacity
150 sheets
Memory
Internal memory
1024 MB
Networking
Cabling technology
10/100/1000BASE-T(X)
Ethernet LAN connection
Y
Wireless LAN connection
N
Ethernet interface type
Gigabit Ethernet
Operating system/software
Windows operating systems supported
Windows 10 Education,Windows 10 Education x64,Windows 10 Enterprise,Windows 10 Enterprise x64,Windows 10 Home,Windows 10 Home x64,Windows 10 Pro,Windows 10 Pro x64,Windows 7 Enterprise,Windows 7 Enterprise x64,Windows 7 Home Basic,Windows 7 Home Basic x64,Windows 7 Home Premium,Windows 7 Home Premium x64,Windows 7 Professional,Windows 7 Professional x64,Windows 7 Starter,Windows 7 Starter x64,Windows 7 Ultimate,Windows 7 Ultimate x64,Windows 8,Windows 8 Enterprise,Windows 8 Enterprise x64,Windows 8 Pro,Windows 8 Pro x64,Windows 8 x64,Windows 8.1,Windows 8.1 Enterprise,Windows 8.1 Enterprise x64,Windows 8.1 Pro,Windows 8.1 Pro x64,Windows 8.1 x64,Windows Vista Business,Windows Vista Business x64,Windows Vista Enterprise,Windows Vista Enterprise x64,Windows Vista Home Basic,Windows Vista Home Basic x64,Windows Vista Home Premium,Windows Vista Home Premium x64,Windows Vista Ultimate,Windows Vista Ultimate x64
Mac operating systems supported
Y
Linux operating systems supported
Y
Server operating systems supported
Windows Server 2008 R2 x64,Windows Server 2008 x64,Windows Server 2012,Windows Server 2012 R2,Windows Server 2012 R2 x64,Windows Server 2012 x64,Windows Server 2016,Windows Server 2016 x64
Operational conditions
Operating relative humidity range
20 - 80%
Operating temperature range (T-T)
10 - 30 °C
Other features
Cabling technology
10/100/1000BASE-T(X)
Output capacity
Standard output capacity
100 sheets
Paper handling
ISO A-series sizes (A0...A9)
A4,A5
ISO B-series sizes (B0...B9)
B5
ISO C-series sizes (C0...C9)
C5
Multi-Purpose Tray media weight
52 - 163 g/m²
Standard tray media types
Envelopes, Glossy paper, Heavy paper, Labels, Plain paper, Recycled paper, Semi-glossy paper, Thin paper
Standard tray media weight
52 - 163 g/m²
Maximum ISO A-series paper size
A4
Performance
Processor clock speed
800 MHz
Processor cores
2
Built-in processor
Y
Windows operating systems supported
Windows 10 Education,Windows 10 Education x64,Windows 10 Enterprise,Windows 10 Enterprise x64,Windows 10 Home,Windows 10 Home x64,Windows 10 Pro,Windows 10 Pro x64,Windows 7 Enterprise,Windows 7 Enterprise x64,Windows 7 Home Basic,Windows 7 Home Basic x64,Windows 7 Home Premium,Windows 7 Home Premium x64,Windows 7 Professional,Windows 7 Professional x64,Windows 7 Starter,Windows 7 Starter x64,Windows 7 Ultimate,Windows 7 Ultimate x64,Windows 8,Windows 8 Enterprise,Windows 8 Enterprise x64,Windows 8 Pro,Windows 8 Pro x64,Windows 8 x64,Windows 8.1,Windows 8.1 Enterprise,Windows 8.1 Enterprise x64,Windows 8.1 Pro,Windows 8.1 Pro x64,Windows 8.1 x64,Windows Vista Business,Windows Vista Business x64,Windows Vista Enterprise,Windows Vista Enterprise x64,Windows Vista Home Basic,Windows Vista Home Basic x64,Windows Vista Home Premium,Windows Vista Home Premium x64,Windows Vista Ultimate,Windows Vista Ultimate x64
Mac operating systems supported
Y
Linux operating systems supported
Y
Server operating systems supported
Windows Server 2008 R2 x64,Windows Server 2008 x64,Windows Server 2012,Windows Server 2012 R2,Windows Server 2012 R2 x64,Windows Server 2012 x64,Windows Server 2016,Windows Server 2016 x64
Ports & interfaces
Standard interfaces
Ethernet, USB 2.0
Print quality
Colour
Y
Maximum resolution
600 x 600 DPI
Print technology
Laser
Maximum duty cycle
30000 pages per month
Duplex printing
Y
Print technology
Colour
Y
Maximum resolution
600 x 600 DPI
Print technology
Laser
Number of print cartridges
4
Standard printer languages
PCL 5c,PCL 6,PostScript,UFRII-LT
Maximum duty cycle
30000 pages per month
Economical printing
Y
Printing colours
Black, Cyan, Magenta, Yellow
Duplex printing
Y
Printing
Print speed (black, normal quality, A4/US Letter)
18 ppm
Warm-up time
13 s
Time to first page (colour, normal)
12 s
Time to first page (black, normal)
10.9 s
Economical printing
Y
Processor
Processor clock speed
800 MHz
Processor frequency
800 MHz
Processor cores
2
Built-in processor
Y
System requirements
Windows operating systems supported
Windows 10 Education,Windows 10 Education x64,Windows 10 Enterprise,Windows 10 Enterprise x64,Windows 10 Home,Windows 10 Home x64,Windows 10 Pro,Windows 10 Pro x64,Windows 7 Enterprise,Windows 7 Enterprise x64,Windows 7 Home Basic,Windows 7 Home Basic x64,Windows 7 Home Premium,Windows 7 Home Premium x64,Windows 7 Professional,Windows 7 Professional x64,Windows 7 Starter,Windows 7 Starter x64,Windows 7 Ultimate,Windows 7 Ultimate x64,Windows 8,Windows 8 Enterprise,Windows 8 Enterprise x64,Windows 8 Pro,Windows 8 Pro x64,Windows 8 x64,Windows 8.1,Windows 8.1 Enterprise,Windows 8.1 Enterprise x64,Windows 8.1 Pro,Windows 8.1 Pro x64,Windows 8.1 x64,Windows Vista Business,Windows Vista Business x64,Windows Vista Enterprise,Windows Vista Enterprise x64,Windows Vista Home Basic,Windows Vista Home Basic x64,Windows Vista Home Premium,Windows Vista Home Premium x64,Windows Vista Ultimate,Windows Vista Ultimate x64
Mac operating systems supported
Y
Linux operating systems supported
Y
Server operating systems supported
Windows Server 2008 R2 x64,Windows Server 2008 x64,Windows Server 2012,Windows Server 2012 R2,Windows Server 2012 R2 x64,Windows Server 2012 x64,Windows Server 2016,Windows Server 2016 x64
Technical details
Display
LCD
Cabling technology
10/100/1000BASE-T(X)
Height
247 mm
Width
430 mm
Depth
418 mm
Colour of product
Black, White
Weight & dimensions
Weight
15.5 kg
Height
247 mm
Width
430 mm
Depth
418 mm
Copyright Target Components 2018