PLEASE NOTE
If you wish to create an account, you will need to do so on the desktop version of the site!
We genuinely care about our customers
Do you want a UK retail economy dominated by a small number of supermarkets and massive high street retailers? We don't. We want an economy built on diversity, choice, and customer service.
That's why our expertise and primary focus has always been with independent computer retailers, VARs and small to medium sized system builders, etailers and resellers. Unlike almost all other distributors[more] , we have never been reliant on a small number of huge accounts. Our strength lies in the breadth of our customer base, our knowledge and understanding of the issues that affect their business, and our eagerness to help them to succeed.

In simple terms, the more successful our customers are, the more successful we are, and it is very much in our interest to help our customers to thrive. To this end, we provide a range of tools to help our customers to generate more business, including your own branded customisable catalogue, your own branded customisable e-commerce website, point of sale flyers, our professional quote builder, our flexible product datafeed system, and much more.

Our systems are designed to make life easier for our customers, with online facilities for checking account status, downloading invoices, logging and checking progress on RMAs and much more. Our website provides extensive product information along with links to manufacturers' websites, and our simple express order facility allows you to raise orders simply and quickly.[less]
We value your feedback
Most businesses claim that they value your feedback, but at Target we believe your feedback is vital, and we'd be crazy not to! Many of our best and most innovative ideas over the last few years have come directly as a result of[more] customer suggestions. Many of our most popular product areas were introduced as a result of customer requests.

We have an 'open door' approach and look to improve communication wherever possible. Every customer has direct access to an account manager (via direct dial, email, msn, and private messaging), we hold regular customer workshops, and our Open Days attract several hundred customers.

We are constantly – and will never stop – developing as a business, and our customers' needs and requirements play a huge part in shaping that development.[less]
High standards of customer care
We are proud of our reputation amongst our customers, and we are very grateful that so many take the time to write letters of thanks, particularly since we are just 'doing our job'. This reflects – and justifies – our view that all customers[more] , from the largest to the smallest in the market, deserve to be treated at all times with the highest possible levels of customer care.

We apply this in all areas, and our customers can expect the same level of care from anybody at Target regardless of their role or department. It is our ethos, and runs throughout every area of our business.

It is our job to provide the best products at the best prices and in the simplest way possible for our customers. In the unlikely event that something goes wrong, it is our job to put it right in the shortest possible time with the minimum of fuss. It is our job in short to ensure that at all times all of our customers are aware of how highly we value them.[less]
Extremely competitive pricing
You would normally expect to pay a premium for top quality service. At Target, we believe that we provide not only the best level of service in the market but also the best pricing.
Since our launch in 1998, we have developed[more] supplier relationships ranging from the world's leading technology brands to direct factory relationships in the Far East and elsewhere, and established a worldwide supply network that is second to none. We have always retained our independence to source the best products at the best prices, and we only ever take on new products or brands if they genuinely offer value to our customers.

We have always retained our own development team, and have developed all of our internal systems in-house. This means that over the years we have developed highly sophisticated bespoke systems to control all aspects of our procurement, pricing, and product management. This allows us to source products at the best possible pricing and pass the benefits on to our customers. It also enables us to review our pricing on every product line every day to ensure that our overall pricing is the best in the market.

All of our account managers also have autonomy to negotiate special pricing for volume or to help customers win a quote, and we always operate on the basis that wherever we can help our customers to win business, we will.[less]
Our product range
Since 1998 we have consistently developed our product range to provide the best choice, value, and margin opportunities for our customers. We have a wide and varied range of over 10,000 products lines[more] from cables and laptop parts to servers and networking products.

We have direct relationships with some of the world's leading manufacturers, and are UK exclusive distributors for a number of brands.

Ongoing development of our product range is very much influenced by our customers' requirements, and we always aim to offer a selection of price / quality ranges within each area.

We have always retained our independence to source the best products at the best prices for our customers, have never been reliant on any one brand or area, and have never – and will never – take on any brand that is not consistent with our goals of adding value for our customers.

We have specialists in all product areas to ensure we have the latest and best products and prices, including our Business Solutions Division, Servers Plus, that specialises in servers and business products.[less]
Our Innovation
We believe that we are by far the most dynamic and innovative distributor in the market. Many of the services we offer are still unique to Target, whilst some of our other innovations have since been copied by others[more]

We are the only distributor to offer our customers their own branded customisable e-catalogue, and have done since April 2004. We were the first in the UK to offer our customers their own branded customisable e-commerce website in August 2004. We were the first to introduce customisable POS flyers, and our flexible product data-feeds system is the only one of its kind. We believe we have the simplest and most intuitive online auto-RMA system, and we have truly unique and innovative back-office systems that enable us to offer unparalleled levels of service and support to our customers. We believe that we are often the first distributor to focus on new product areas to bring new opportunities for our customers.[less]
Our performance
We believe that we provide the best service in the market, and that in the unlikely event that something goes wrong, we are second to none at resolving quickly and with the minimum of fuss. However, our primary aim is to[more] make sure things never go wrong in the first place!

Having tried most couriers at some point since 1998, we now use DPD for our next day deliveries because they are quite simply the best out there and head and shoulders above the rest in terms of reliability.

We have used Sterling Services for local same day deliveries for many years because they have consistently proved that they are the best for both reliability and value.

Our warehouse and logistics team are all highly trained and experienced in ensuring that all orders are well packaged and despatched accurately, and we have constantly improved our order processing and logistics systems over the years to maximise reliability and ensure that all orders arrive on-time, intact and undamaged, with a fulfilment rate well above 99%.

We believe that we have the fastest RMA service in the market, with average turnaround of less than 2 days and with 60% of all returns processed and completed same day.

Customer service requests can be logged online or through our Account Managers, with response time of less than one hour and resolution – where requests cannot be resolved immediately – generally within 24 hours. Where issues are longer term and cannot be resolved within 24 hours, for example where they involve third parties, customers are kept informed of progress on at least a daily basis.[less]
Communication
We see effective communication with our customers as being vital to our success, not just to allow our customers to tell us what they think but also to keep them informed of developments at Target and in the market in general and to ensure[more] that they are getting best value from our products and services.

Every customer has a dedicated Account Manager with direct communication via direct dial number, email and msn. Our website is available 24/7 for placing orders, checking account status, logging or checking progress on RMAs, downloading our innovative Sell More tools, and much more. Our website also offers discounted carriage, no credit card surcharge, free delivery on orders over £500, and has a minimum order value of just £50. Latest news, new product updates, and product reviews are all available through our site.

All customers receive our daily email updates with details of special offers and promotions and other Target news, we have an active customer forum and we hold regular Business Workshops with small groups of around 8 customers at a time, as well as our Open Days which attract several hundred.[less]
Our staff
Our ethos at Target is that all our customers will receive the same high level of service from everyone in Target. Over half our staff have been with Target for at least five years, and all new joiners[more] are fully trained in our customer service ethics.

We only recruit good people who not only have the right skills and abilities but also the right attitude and personality. We maintain high standards of customer care, only recruit those that we believe are capable of meeting them, and only retain staff that consistently do.

We believe that we enjoy the best relationships with our customers because we provide the best level of customer care at every level within Target, and we do this because we have a dedicated team that are determined to provide the best service possible. [less]
Our Business Support services
We believe that our continued success is entirely dependent on the success of our customers which is why have introduced a range of services to provide business support, advice, and expertise free of charge for our customers. Unlike "training" or "business advice" offered elsewhere[more] all our support is completely free of charge, provided by experienced Business Advisors, and offers genuine business advice, not a sales pitch dressed up as advice.

Our dedicated business advice website – ShopTalk – offers business advice, blogs and articles, discussion topics, resources, useful links, and a forum to share best practice.

We hold regular Business Workshops on a range of topics to help you grow your business. Our workshops usually last half a day, involve a small number of customers – usually six to eight at a time – and are highly interactive.

We even offer one-to-one mentoring with our experienced Business Advisor tailored specifically to individual needs andrequirements, ranging from a full strategic growth plan to a quick "fresh pair of eyes" overview. Our Business Advisors are entirely independent of our sales and marketing functions and are targeted solely on customer satisfaction.[less]
Links to further info: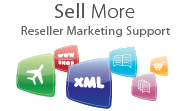 Sell More reseller marketing tools

Open Day

Careers

Contacts
Target Components Limited | Pioneer Way . Castleford . West Yorkshire . WF10 5QU
Registered in England | Company Registration No. 3113281 | VAT Registration No. GB660103090