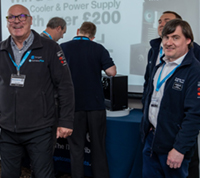 Target Event 2022
After nearly 3 years, it was great to be back hosting an event, this time at Darrington Golf Club in Yorkshire, a great venue we thought would be perfect to catch up with regular event attendees as well as customers who'd joined during the pandemic. And we weren't disappointed - the day saw loads of new brands exhibiting for the first time (DeepCool, Inno3D, MadCatz, Netac, Aruba and Norton) as well as regulars (Gigabyte, Seagate, Marvo, Intel, Microsoft to name but a few) showing off their latest and greatest products and providing advice to attendees on opportunities they offered their businesses.
And the business workshops were as popular as ever, with Seagate, Microsoft, Ener-J, Aruba and DeepCool all offering advice and insider-knowledge. The Event also saw the return of Target's Business Brainstorm session, a unique opportunity for resellers to air their questions and concerns, with advice proffered by other attendees.
It was also the perfect opportunity to usher in a new era for Target as the slightly bittersweet day saw us say goodbye to Paul and Sonya Cubbage but welcome our new MD, Michael Lawrence, who has taken the helm as Target embarks on its new position as an employee-owned trust.
A great day was had by all as celebrations, networking and conversations between resellers, vendors and Target went on into the early hours.
To see highlights, click here.