Do you want your own-branded PC configurator for free?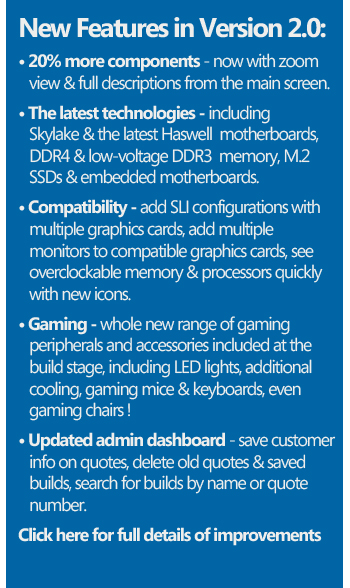 The In-Store PC Builder is the world's first PC configurator that allows you to design to any specification, giving you a PC range the highstreet chains can't even come close to.
Why you
need

the In-Store PC Builder:
3-Year warranty as standard or upgrade to an extended parts,

labour & collection warranty for just £25 per PC
The In-Store PC Builder's simple, mobile-friendly, graphical interface allows you to select, modify or add components at any point of the design. And, with it's built-in compatibility-checker, you can sell the machine knowing all components will work together.
You don't need any technical knowledge to use it, so you can even get your customers to design their perfect PC themselves!
In fact, the customers who have benefitted most from the In-Store PC Builder have designed PCs with their customers - they report that the typical price is over 20% more!
Choose whether you want us to build it for you, order the parts and build yourself or simply use it for providing customer quotes - it's your choice.
What's best, though, is independent resellers can now offer something the big, highstreet chains can't - PCs designed and created to your customers' exact specifications, whatever they may be.
This video shows you how: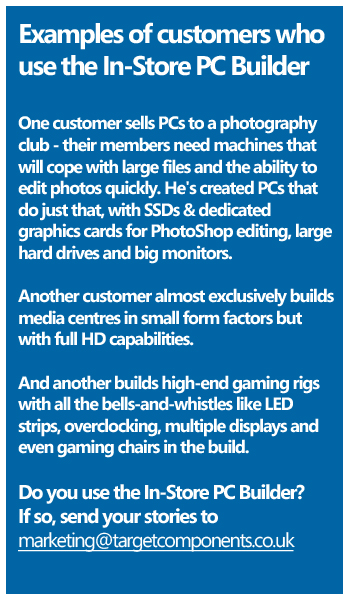 How the In-Store PC Builder can help you
Firstly, it's free. Gratis. No cost. At all. So what do you have to lose?
But there are loads of other reasons why you should use it...
There's the choice - over 500 components are available. And with choice comes opportunities - you're no longer confined to offering a limited range of PCs for home or business with a few gaming machines to cover all bases. With the In-Store PC Builder you can build machines to the requirements of specific customers.
In fact, there are over 700 trillion (yes, trillion) unique PC configurations available, all just a few clicks away.
You also get to add peripherals, monitors and software at the design stage, so you can see the total cost right there and then.
It also features a customisable front-end where you can place your own branding, as well as an intuitive password-protected admin system.
But it's what it can do for your business that's most important - you're offering a bespoke service to your customers, you can get them involved in designing their machines using a tool that is all branded as your own, with your own pricing.
At our 2015 Open Day, we presented a talk and Q&A session on the benefits of using the In-Store PC Builder:



Still not convinced? Got a question about the In-Store PC Builder?
Call us or email ISPCB@targetcomponents.co.uk